Posterior .5  Ride
 (500 Miles in 12 Hours)
April 19 2003
<![if !supportEmptyParas]> <![endif]>
I knew this was going to be an interesting ride, but I was not expecting cold.  We started our ride at 6:20 am after having breakfast at Denny's. It was during that pre-dawn light that lets you know the day is starting without actually  being daylight, that we headed east on the 91.  Within a very few short minutes we know it was a little chilly, but it wasn't until we stopped for a short break and gas about 75 miles into our trip that Karen mentioned that she saw the temp sign that said 41 degrees.  It was still going to be a great day though, and I could tell as soon as the sun kind of peeked out over the top of the San Bernardino Mountain range like a giant smiling orange looking to see if anyone was awake yet. 
As we left the city and headed southeast on the I10 toward Palm Springs the world around us started to wake up. The traffic started getting heaver and before we really got started we came upon our first traffic jam and an accident.  Fortunately it had already been cleaned up and all we had to deal with was a short slow down for the looky-loos.  Our spirits perked up a little as we stopped at that first stop and got some coffee and hot chocolate.  <![if !vml]>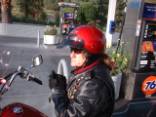 <![endif]>The sun warmed us some and we felt like this was the start of a good run. 
As we headed east past Beaumont and Banning and the clouds came out and it started to get a little chilly and looked almost like we were going to get a little rain. But as we stated to see the familiar windmills <![if !vml]>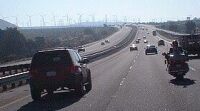 <![endif]>that announced we were getting close to Palm Springs, the clouds passed, the sun came out to play again, and we headed north on the 62 around the edges of the Joshua Tree National Park.   Once we had climbed up over the rise and crested the top, we could see the Morongo Valley spread out in front of us. We dropped down into the valley in a northeast direction, then climbed up over and dropped down into the Yucca Valley turning east and riding on to Joshua Tree.  It seemed from here that you could see down this road forever.<![if !vml]>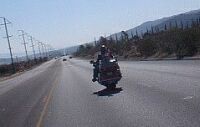 <![endif]> It's hard to find a road this straight, or a sky so clear, or an area so open, that you can actually use the term, "As far as the eye can see." and mean it.  I'll bet you could see 50 miles or more. 
We stopped in 29 Palms for gas and another short break before heading across the desert on Amboy Road.  This part of the trip was as about as deserted and any I had ever ridden on.  Although we passed places like, Sheep Hole Pass, The Utah Trail, Cadiz and Bristol Lakes,  and Bagdad, I really don't remember seeing any of them. I didn't  even know Dave had his own lake.  I can understand why it has been so hard to find Saddam when I couldn't even find Bagdad and we rode right through it.  As near as I can figure, it had to be around here <![if !vml]>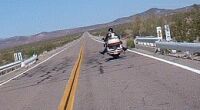 <![endif]>somewhere.  Another 20 miles down the road, we stopped at a little place on the National Trails Hwy where it crossed the I-40 at Crucero Rd.  This must have been a large town, cause they had their own fire truck and ambulance, <![if !vml]>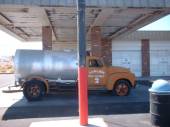 <![endif]>but for the life of me I could not find a name for the place, still I'm guessing it was close to Ludlow. 
From here we hopped on the I-40 and rode west to Barstow where we had lunch at KFC before checking out the Gigantic Fire hat <![if !vml]>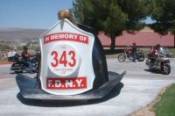 <![endif]>that was put up as tribute to the New York Fire Dept.  Our riders looked like Indians circling the wagons trying to find a place to park before realizing that we were in a fire lane.  I got a quick pic of a tank on the way out of town.  We grabbed the 58 and kept heading west till we got to Kramer Junction before heading north up the 395 toward Bishop.  Out here in the desert we forget to think of all the good things we get like the power from the windmills and from the solar collectors. And then there is the Federal Prison, who could think of a better place for it.  Then there is Okie Ray's Museum, Silver Dollar Saloon, and of course the Johannesburg Post Office and market. <![if !vml]>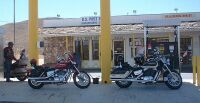 <![endif]>  After another quick break, we headed west, sort of, through a <![if !vml]>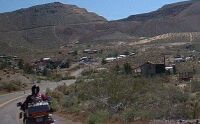 <![endif]> "living ghost town" called Randsburg.    There was a gathering of dirt bikes in town that looked like it might be organized, but this trip was not for socializing, so we made a big loop around a salt flat that had to be 12 to 15 miles across before heading southwest again on the 14.  This was the part of the trip where Karen's bike went over the 20,000 mile mark. She's planning to make it 30,000 this summer.   This road took us around Edwards Air Base past the old airplane graveyard at Mojave.  Dave made a comment that having one of those old planes for the American Cruisers Clubhouse would be a nice touch.   From here we headed due south past Mike's Road house down to Lancaster and Palmdale where we stopped for one more gas fill up and got to see the public playing in the California Aqueduct before heading southwest on the Sierra Hwy (lots of cops here) through the <![if !vml]>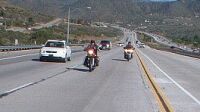 <![endif]>San Gabriel Mountains to meet up with the I-5 Fwy.  From this point it was south on the 5 to the 710 where Karen and I split off from Mark and Dave. We got home at 20 after 5 pm, or almost exactly 11 hours after we started.   If you are looking for a trip with scenery and open spaces, this is the one. This gives you a real feel for how big this country is and why we all live here.  Enjoy the pictures on the photos page and I'll see you on the byways…..
<![if !supportEmptyParas]> <![endif]>
<![if !supportEmptyParas]> <![endif]>